Having trouble reading this email? View it in your browser.
---
BEFORE READING!
Click here to read Anthony's predictions for 2019!
Anthony Carr Predicted Twins For The Royal Newlyweds!
"I have sent three pairs of baby booties to the Royal Lovers, PRINCE HARRY and MEGHAN MARKLE, congratulating them in advance: twin boys, then a girl; or vice-versa, since I am, after-all, dyslectic."
*The above prediction was first prophesied in December 2017 for STARGAZER 2018; to wit: "TWIN GIRLS For Meghan & Harry!" National Enquirer, January 14, 2019.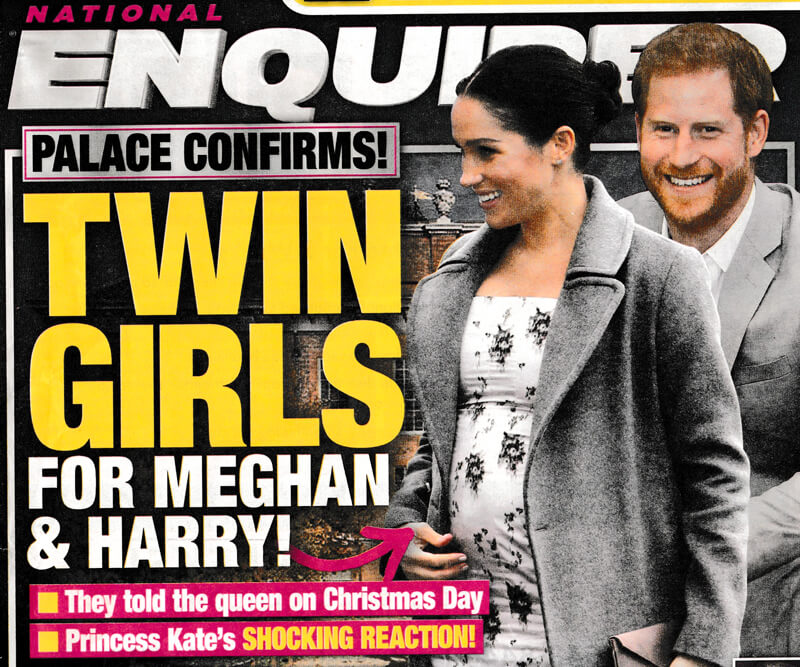 Anthony's complete appellation is "Sir Anthony Lonsdale-Carr" by virtue of the de facto courtesy title bestowed upon him — personally — by Her Most Serene Highness, the late, Lady Iris Mountbatten, in Toronto, 1981. Born at Kensington Palace, she was the great-granddaughter of Queen Victoria; 1st and 2nd Cousin, respectively, to King George VI of England and Great Britain and His Daughter, Queen Elizabeth II; and of course to the late, Lord Louis Mountbatten, WWII Supreme Allied Commander of South East Asia and the last Viceroy of India. For obvious reasons Anthony rarely uses the title....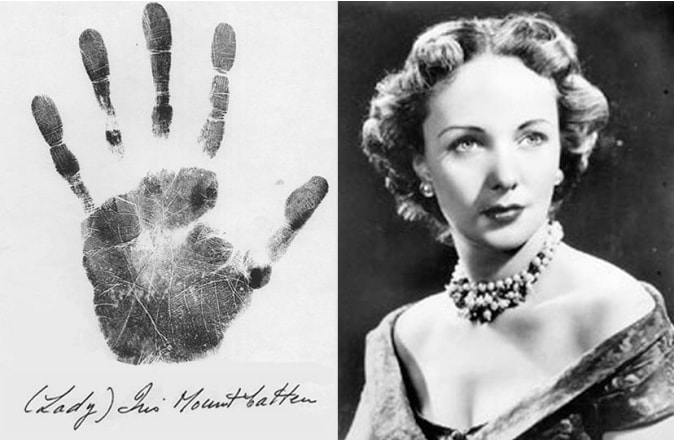 (Palm print of Lady Iris Mountbatten taken during reading with Anthony Carr.)
Anthony's Letter to Publishers
Dear Publisher:

My name is Anthony Carr, "The World's Most Documented Psychic" (but not necessarily always the most accurate). You may check out my website at: http://anthonycarrpsychic.com (Be sure to check out the Mob Stories section.)

I've just finished reading Toronto Island Summers by Jim Sanderson and thought it was a great read. It reminded me of my boyhood years, living on The Island (1954-'57). I have written about that period in my autobiography, A Fool's Journey.

The book encapsulates my entire life (still a work in progress). Chapter outlines can be read by clicking here.

Some of the notable chapters (excerpted from A Fool's Journey):

LIFE ON TORONTO ISLANDS

Life on Toronto Islands during the 1950's; watching from the boardwalk as Marilyn Bell – the first and youngest swimmer ever to cross Lake Ontario — strokes her way to glory…. We – Vernon Kipp and I – go out to meet her in our old dilapidated row boat (no oars, only pieces of wood) — and sink! But radio station CFRB's Charles Dearing and their launch – rush to our rescue! We survive Hurricanes Hazel and Connie!

If you would like to read more about the above Island chapter, or any of the ones below, let me know, and I will send it to you.

THE DON JAIL STORY

"MY GOD — THEY'RE GONNA PUT ME IN THE GORILLA CAGE!!" — That was my immediate reaction as the guards at Toronto's notorious Don Jail pushed me through the steel door, and my eyes first beheld "The Range"….

SHOCKING INCIDENT AT THE TOWN TAVERN

Thugs, Blood! — and all that jazz….

READING THE PALMS OF EUROPEAN AND HOLLYWOOD ROYALTY

Readings for Sylvester Stallone, Frank Sinatra, Glenda Jackson, Ella Fitzgerald, Lillian Gish, Richard Burton, Liberace, Cab Calloway, Peggy Lee, Mikail Gorbachev, Queen Julianna of the Netherlands, Lady Iris Mountbatten, Countess DeSalaga (descendant of Vlad the Impaler -Dracula) – and so many more!

---

Click here for a letter from Les Pyette, emeritus Publisher and CEO, Toronto Sun, National Post, Calgary Sun and London Free Press; and here for a letter from Jacqueline Stallone (mother of superstar actor Sylvester "Rocky" Stallone).

Perhaps you'd be interested in publishing my book, or at least the Life On The Toronto Island segment? Thank you.

Respectfully yours,
Anthony Carr
---
Anthony does in-depth personal readings, by appointment only. More info here.
For media interviews, contact info@anthonycarrpsychic.com.