Having trouble reading this email? View it in your browser.
---
Anthony Carr saw Prince Harry – Meghan Markle Royal Wedding in His hand, long ago!
The following prediction first prophesied in GLOBE / Toronto Sun, 2002; then again in STARGAZER 2015.
"British Royal Wedding: There's an 'M' in his hand, who will be his great love at age 26, but within two years they will part, reunite and then marry...."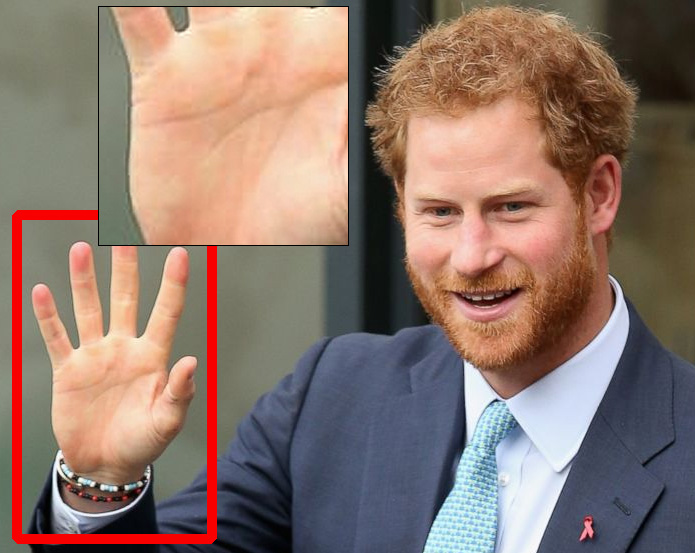 Anthony saw the "M" pattern indicated by the lines in his palm as far back as 2002, when he was a teenager; and then again more recently in 2015!
The following prediction was made in STARGAZER 2010.
"Catastophic underwater earthquakes, giant tsunamis and inundations – including Japan and Hawaii, the likes of which we have not seen in recent history."
And this one in STARGAZER 2007.
"Beautiful Hawaiian Islands Restaurant, nestled among cloud-shrouded mountains – suddenly plunges!"
To wit: "Kilauea Volcano Erupts in Hawaii's Big Island!" USA Today, May 14, 2018.
The following prediction was made in STARGAZER 2006.
"I believe many Americans will immigrate to Canada as both political and natural climates change drastically! Particularly I see large numbers moving steadily toward the climes of northern Ontario and the Northwest Territories (N.W.T.) in search of fresh-air and wide open spaces!"
2016; to wit: — TRUMP!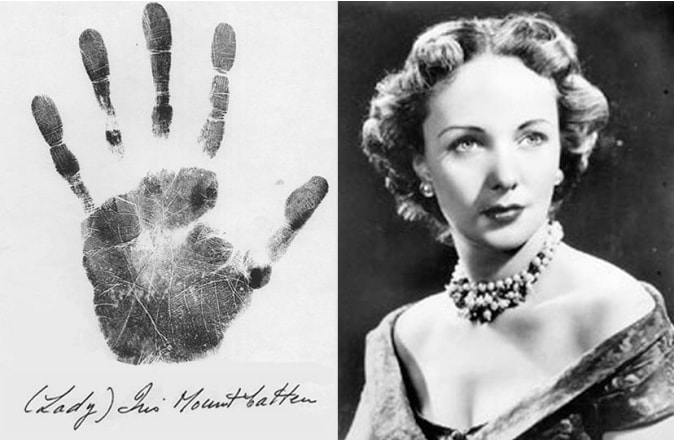 (Palm print of Lady Iris Mountbatten taken during reading with Anthony Carr.)
The following prediction was made in STARGAZER 2017.
"PRINCE ANDREW's sudden rise to the world stage helps organize the British Royal Family. "Randy Andy" was his affectionate soubriquet when he attended Lakeview College in Peterborough, Ontario, just outside Toronto. He and his "wild bunch" once walked into the bar where I was playing with my band, The Boyd Gang, and a good time was had by all! That Regal Royal Rascal could be the next de facto British Monarch, if not the de jure one."
Editor's note: Anthony's complete appellation is "Sir Anthony Lonsdale-Carr" by virtue of the de facto courtesy title bestowed upon him — personally — by Her Most Serene Highness, the late, Lady Iris Mountbatten, in Toronto, 1981. Born at Kensington Palace, she was the great-granddaughter of Queen Victoria; 1st and 2nd Cousin, respectively, to King George VI of England and Great Britain and His Daughter, Queen Elizabeth II; and of course to the late, Lord Louis Mountbatten, WWII Supreme Allied Commander of South East Asia and the last Viceroy of India.... For obvious reasons Anthony rarely uses the title....
STARGAZER: Predictions & Prophecies voted book of the month at Chapters book store.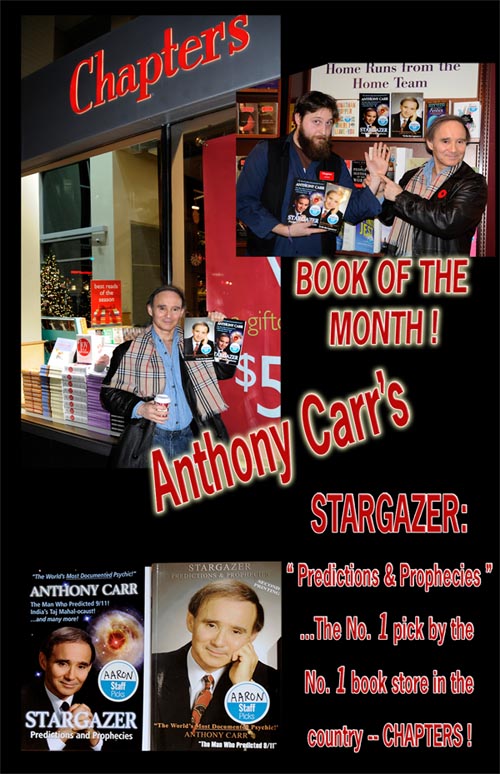 ---
Anthony does in-depth personal readings, by appointment only. More info here.
For media interviews, contact info@anthonycarrpsychic.com.