Having trouble reading this email? View it in your browser.
ANTHONY CARR
"THE WORLD'S
MOST DOCUMENTED

PSYCHIC!"

Website: http://anthonycarrpsychic.com

Want to interview Anthony? Contact info@anthonycarrpsychic.com
---
Brooklyn Bridge Catastrophe!
This is a prophecy about numerology. Specifically the number eleven ("11") which, like the number 22, is not to be tampered with or reduced to its lowest common denominator by adding together each of the double digits to form a single digit, namely – 11: 1+1=2; 22: 2+2=4, because they are both spiritual, and as such are to be left alone.
As "the man who predicted 9/11" – me! – it suddenly occurred to me while I was watching a documentary on the building of the Brooklyn Bridge, that the former twin towers quite remarkably resemble an 11, as does the Brooklyn Bridge which appears to lie beneath them, in this photo: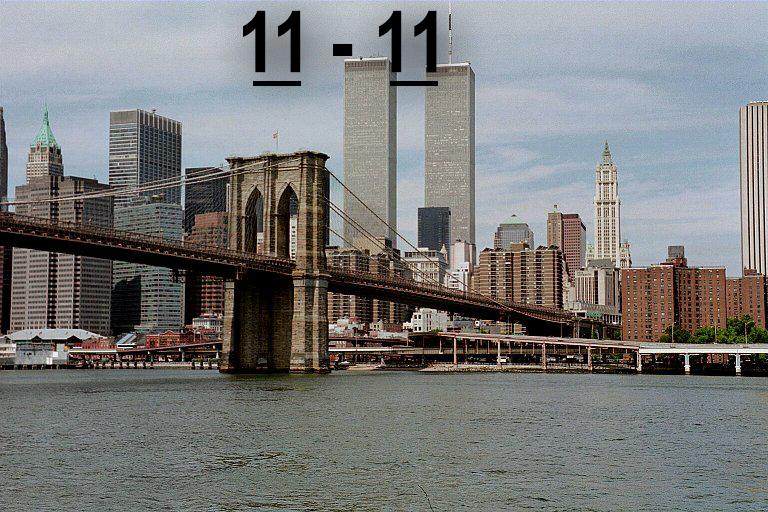 Numerologically speaking, eleven is supposed to indicate the sudden opening of the Cosmos to reveal the return of the Star-travelers Who created us, as well as the coming Rapture.
The first "11" (of 11-11) has already tragically occurred, but the second has not... (yet).
At any rate, I have recently had a terrifying foreboding of a catastrophic event surrounding the Brooklyn Bridge (possibly the Golden Gate Bridge), or near it. Another 9/11?! (Incidentally, even 9/11 = 9+1+1, which brings us right back to number 11!) "...From the heavens they shall come!"
(Nostradamus: CENTURIES)
Addendum:
July 4th – or, 7 + 4 = 11! BEWARE!!!
---
Extra!... Here is another personal testimonial of Anthony's abilities, from a long series of endorsements stretching back more than 50 years!...
"Hello Anthony, just wanted to thank you again for appearing on Leak Project last New Year's week – and even more for being so kind to me. I appreciate what you do. What you discussed with me about the current U.S. administration spearheading WW3, has got me wondering, now more than I ever have in years. I hope not, but only time will tell. Also, you were right about my being on TV. I was interviewed by a documentary crew today, in reference to 9-23, and an event that I'm doing here, in South Dakota. Also, since I've been doing podcasts via video, my views and subscribers have JUMPED tremendously. I want to thank you for informing me about that vision you had concerning my future. It gives me chills even now – as I think about it! Much respect to you!!!
---
Anthony does personal readings. More info here.