Anthony Carr – Psychic to the Stars!
By Nick Thomas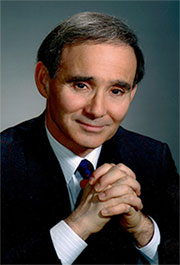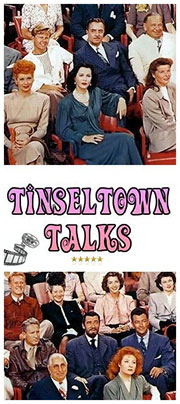 While his professed powers of prognostication might be greeted with skepticism by some, there's no doubt Canadian psychic, astrologer and palmist Anthony Carr has been influenced by the stars — of the celebrity variety.

Carr, 71, has rubbed palms with Hollywood royalty all his life.

"When I was six months old, Esther Williams used to babysit me," said Carr, from Toronto.

His parents, carnival high divers for the traveling Conklin Shows, crossed paths in the late 1930s with Williams who worked for Billy Rose's Aquacade before she was discovered by Hollywood.

"I ran into her several years ago at a birthday party for Zsa Zsa Gabor and read her palms. She remembered my parents and me as a baby," Carr said.

Raised in a poor, tough Toronto neighborhood called Olde Cabbage Town, Carr worked as a musician before finding his psychic calling. He went on to write two internationally syndicated columns and several books on astrology and palmistry. As his fame spread, the famous came calling.

"Actors can be very insecure and superstitious because they never know when their success may come crumbling down," Carr said. "It's difficult to rise to the top of their profession, but even tougher to stay there. They want to be reassured everything will be all right."

Carr recalls visiting silent film legend Lillian Gish in her New York apartment on Park Avenue in 1980.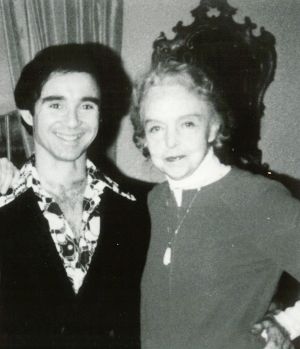 "It was like stepping into the Edwardian Period," he said. "Persian rugs and Royal Dalton china, with pencil drawings of Clark Gable and Vivian Leigh on the walls. I wanted to take palm prints of her hands, but she couldn't open her right hand. When filming 'Way Down East' (1920), her hand was dangling on the ice flow for hours and became terribly arthritic."

Carr shared a recording of the conversation in which Gish, 87 at the time, asks about her health.

"You've got a good healthy 5 years yet," Carr tells her on the recording.

"I only want to be here as long as I'm useful. I don't want to stay a minute longer," Gish responded most emphatically. She lived to almost 100.

"She was also concerned that her acting career might be over and asked me 'What am I going to do next?'" he said, quoting from the recording. "I told her it will involve working on a cruise ship."

The following year, Gish starred in an episode of "The Love Boat."

In addition to Gish, Carr has done readings for Sylvester Stallone, Jane Powell, Frank Sinatra, Douglas Fairbanks, Jr., Richard Burton, Liberace, Peggy Lee, Yvonne De Carlo, George Raft and numerous other celebrities — www.anthonycarrpsychic.com.

Raft was a popular tough guy actor in the 1930s and '40s who visited Toronto to promote his 1932 film "Scarface" and became friends with Carr's father.

"Raft really was tough on screen and off," Carr said, referring to the actor's well-known association with gangsters of the period. But when his box-office appeal waned in the '50s, Raft found himself working at casinos as a greeter.

"I met him when I was a musician in Vegas," Carr recalled. "In those days I was trying to get into movies and asked if he could help, but he no longer had influence."

Raft's background, including his date of birth, have been debated over the years, with most biographies identifying him as Jewish-German. But according to Carr, Raft claimed to be Italian.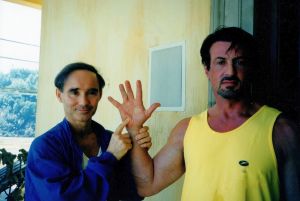 "He told me this himself when I had a drink with him in Vegas, and he spoke in fluent Italian," said Carr, whose father was Italian. "I believe he had passed himself off as Italian, rather than Jewish, because of the rampant anti-Semitism during the rise of Hitler and the Nazis."

In 1993, Carr met the late Star Trek actor James "Scotty" Doohan when the pair were hired for a psychics infomercial in Las Vegas.

Doohan, a former officer in the Royal Canadian Artillery, suggested he might possess an uncanny sense of intuition and illustrated by relating a personal experience during the D-Day landing at Normandy.

"While the troops waited offshore to land, he played craps," Carr siad. "Doohan had a feeling he would keep winning and he did — thousands of dollars."

After landing, Doohan stuffed his winnings into a bedroll in a tank.

"It was hit by a shell and he lost everything, including a finger when shot," Carr said, referring to multiple injuries Doohan received.

In addition to reading for individuals, Carr also continues to make predictions about world events involving popes, politicians, and princesses, but just how accurate are they?

"You never heard of Nostradamus publishing his misses, only the ones he got correct," he said, who refers to himself as the world's most documented psychic. "I like to say 10 percent of my predictions are 100 percent accurate!"

"We're all afraid of the same things — getting old, getting sick, or losing our jobs — and want to be reassured," he says. "Just like celebrities."

When not meddling with the metaphysical, Carr plays sax with his band, "The Fabulous Rave."

On Nov. 8, 8pm, The Rave will appear live on stage with George Noory, the "Coast to Coast AM" radio host, at Toronto's Queen Elizabeth Theatre where Carr will also offer psychic readings for the audience.
For more stories of Old Hollywood, visit: www.tinseltowntalks.com