WWIII IS UPON US!!!
But Islam Shall Not Triumph!
(Prophesied: STARGAZER Predictions & Prophecies for 2013, to Toronto Sun columnist Mike Strobel / Les Pyette, Emeritus Sun Publisher.)
"Yet one more religious fanatic rises from the East to rival OSAMA BIN LADEN. Wearing the blue turban (or black), he is the final madman who will plunge the world into darkness!..." (Prophesied: STARGAZER Predictions & Prophecies for 2013; to wit: "Islamic State video purports to show beheading of UK hostage David Haines;" Toronto Sun, September 13, 2014).

"Ontario-Quebec-affiliated al-Qaeda terrorists attempt to blow up the Parliament buildings to force the government to move the legislature to new digs! They fail!" (First prophesied STARGAZER: Predictions and Prophesies for 2013; to wit: "Home-grown Jihadist radicals kill two Canadian soldiers, including Warrant Officer Patrice Vincent and Cpl. Nathan Cirillo, who was standing guard at the Tomb Of The Unknown Soldier in Ottawa, Canada;" and in New York, "Hatchet wielding wacko attacks police officers! Both fanatics shot dead!" October 24, 2014, Toronto Sun.)
✱ ✱ ✱ ✱ ✱ — FLASH NEWS ! — ✱ ✱ ✱ ✱ ✱
These new 2015 predictions and letter to al-Baghdadi were prophesied and recorded September, 2014 by Anthony Carr.
(Witnessed by Justin Da Silva, Mr. Carr's Technical Editor.)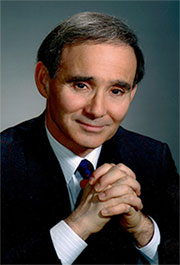 Anthony Carr
World's Most Documented Psychic!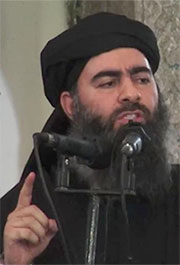 Abu Bakr al-Baghdadi
Suspected leader of ISIS
Abu Bakr al-Baghdadi, look at my eyes and know this: I swear by Allah, Who is Almighty God, that you will never see Paradise, the soft light of Heaven reserved for your innocent victims, but only the dark and stormy place at Cosmos end where Chaos reigns and where you shall endure forever!
There, shall your Sensorial Self (your Soul), languish in unimaginable agony until even It is finally consumed by the Eternal Fire. You have gone 'round on the Great Wheel of Life and have learned nothing. By your command were these acts of utter cruelty committed! Defenseless men purposely murdered! A real man would have attacked armed military personnel. Even World War II Japan had at least enough guts for that! They were not a bunch of pretend soldiers, like you pansies, hiding behind girls' veils and beards. (What's wrong – can't you afford a razor?) These were the real terrorist, in every sense of the word! But you...? Why, you and your sissy army are nothing but a bunch of snakes with arms and legs!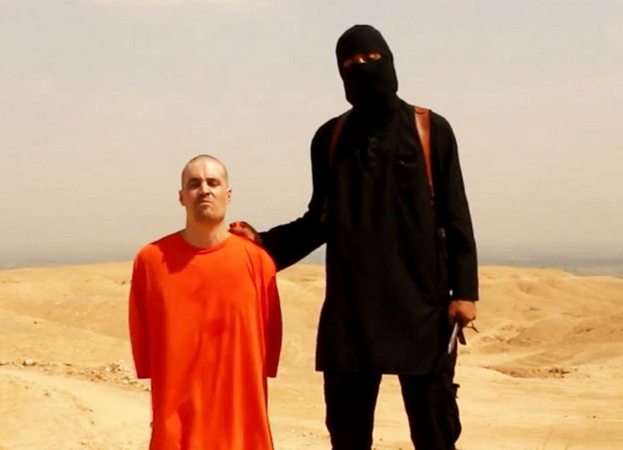 You are no true follower of Islam. However, you do bear a strong resemblance to Adolph Hitler who, were he living, no doubt would be in awe of your barbarity. I am fairly certain that you are the Fuhrer reincarnate, with your pathological hatred of Jews, Canadians and Americans. And, like Hitler, you are probably a self-loathing closet Jew. So why don't you do the world a favor – and kill yourself! You are a mad dog and a coward, and mad dogs must be put down, as soon you shall be. Death will come swiftly, when it does come. Your suffering in this life will be brief, but interminable in the next.
Both Bible and Qur'an (Koran) state: "The knower knoweth," and I know the horror which hath no end that awaits you in the Great Beyond. It is a gift of "vision" bestowed upon one who has lived the great range of life, perhaps too many times.
I would like to believe that this Sense of Kismet will bring some small comfort to the grieving people whose lives you have ruined. But I know it cannot... only time may ease the pain, console the inconsolable.
However, this I promise! The Fate of Abu Bakr al-Baghdadi's Soul – and your so-called "army" – is forever sealed in the Great Archives of the Akashic Records of Heaven, or what the Christian Bible calls "The Book of Life," until the Day of Judgement.
To every Jew, Christian and Muslim: When comes the Great and Glorious One, the King of the Star-Travelers, the Messiah, all eyes shall see but One and only One shall rule.... He, Who is the Light of this miserable world, whether He be Star-Traveler or God, only He can halt the pending carnage. Then all religions shall be One.... THE RELIGION THAT HAS NO NAME... THAT WHICH IS INEFFABLE!
Abu Bakr al-Baghdadi, this you well know: "...What Is Written on thy forehead by the Finger of God, Will Be And Must Come To Pass." But it will not be as you expect. Should I die before this conflict ends, in whatever manner, take this as yet another sign of your ultimate defeat at the hands of America, Canada, Britain – and all our Allies – and the One True God! On that day you will remember my words. "SO IT IS WRITTEN."
Now stick that in your opium pipe and smoke it, Abu Bakr al-Baghdadi, or "dadi's got a brand new Bagh," or whatever the fuck your unpronounceable name is.
But remember this: If the Americans and her Allies can send the powerful WWII Japanese Army running for the hills (literally) – that Empire of the Sun who were so very well trained, ferocious, barbaric (beheadings), and suicidal (Kamikaze pilots), then how much easier should it be to kick your ass to kingdom come? Much, much easier! "Terrorist"? Ha! – Don't make me laugh. That may be what you call yourself, but gutless camel jockey is what comes to my mind.

Incidentally, by way of this very same letter that I am sending you, did the prophesy of a violent end come to your colleague, Osama bin Laden, with chilling accuracy.
• • •
NAZISM EQUALS EXTREME RADICAL ISLAMISM!
COME ON, PEOPLE! TAKE YOUR HEADS OUT OF THE SAND BEFORE IT'S TOO LATE!! KILL — OR BE KILLED!!!
Remember the schoolyard bully? Same thing! You had to stand up to him (or her) and beat him half to death so he wouldn't come back at you again! And if you couldn't do it yourself, then you got somebody else to do it! Remember: a broken leg hurts just as much if it's done by proxy! In the 1930s, when Hitler was on the rise, home-grown Nazi organizations sprang up all over America and Canada – literally by the hundreds of thousands! They were called "The Bund," or the "Hitler Nazi Party" (Youth Movement), and were well-organized and well-funded. They had their own meeting halls and once in February, 1939 even held a rally at New York City's Madison Square Garden!

Here, in Toronto, the card-carrying official Nazi headquarters was the Balmy Beach Club, and their Brown Shirts with the Red Swastika emblazoned on their sleeves were a common sight up and down the Beaches Boardwalk. Their bullying, brutal tactics eventually led to the Great Christie Pits (Park) riots of 1933, a pitched battle involving more than 10,000 men! – Nazis vs. Jews and Italians – and any other visible minority of the day. My father, Italian, fought alongside the Jews and everyday he would show me the scar on his head from a hammer blow wielded from behind, which required over a hundred stitches! (No one would have dared attack my dad head on!)

So what do we have today? Home-grown jihadists trying to ram their beliefs down our throats! Don't let them do it! And don't just stand by until it's too late! Instead of meeting in secret halls and Madison Square Garden as they did in the 1930s, now they meet in private homes, chat rooms and (some) mosques. Remember the old parable? "...When the Nazis came for the bankers, I wasn't a banker, so I did nothing to help; when they came for the professors, men of learning, I wasn't a professor so I did nothing to help; when they finally came for me, there was no one left to help...." You know the drill: "The only thing necessary for the triumph of evil is for good men to stand by and do nothing."

In light of the recent cowardly murders of two of our own unarmed brave Canadian soldiers by home-grown self-radicalized Muslim converts, right here at home in our own backyard in Ottawa, Canada, and the unprovoked slaughter of U.S. and British soldiers and journalists abroad, I journeyed back to visit my family roots in Buckingham, Quebec where the maternal English segment of the family settled nearly two hundred years ago. They eventually mixed their blood with that of the French settlers and members of the great Mohawk nation, whose blood flows through my veins.

There, in St. Stephen's churchyard, lie both my grandfathers, side-by-side, as peaceful in death as they were in life: one, French; the other, English-Mohawk. Both fought in the two World Wars, both received the Medal of Valour for distinguishing themselves "above and beyond the call of duty" at Vimy Ridge, where the might of the German army stubbornly resisted every attempt by American and British troops to dislodge them until the arrival of the fierce fighting Canadians, made up of French, English and Native Canadians.

After the wars, both my grandfathers returned to their quiet country to live, love, and die, in peace....

There they lie, side by side, in their Legion's blue blazers, medals proudly displayed across their chests. Today they would turn in their graves if they knew what was happening to their beloved country.... They would cry out: "Is this what we fought for? Is this what so many died for?... We want to sleep, in Canada!"....

When I stepped back to snap a photo of the massive upright tombstone bearing the names of the generations of my forebears lying beneath it, my right leg suddenly broke through the hard, sun-baked crusty dry edge of the grave, and went in – right up to the hip! Before my mother and sisters could yank me back out, I was certain I felt bony hands reaching up – tugging and pulling at my pantleg – imploring me to do – or say – something! (True Story.)

And so here it is:

Let's go Canada-Britain-America! – wake up before it's too late! Never mind the Canadian French-English sparation problem, or America's north/south post-Civil War grudge. Unite! – Because I have a very uncomfortable sense of foreboding!

These cockroaches – spies, moles, sleepers – must be rooted out of their holes, here, right at home! Never mind abroad! And if you are familiar with my work, you must know that I have been preaching and predicting this for years. And now they're here – right here on our doorstep! Like the thousands of home-grown Nazis, spies, moles and sleepers of the 1930s – they are not just going to go away by themselves! ACT NOW!!!

As I watched Warrant Officer Patrice Vincent and Cpl. Cirillo's funerals on television, my emotions have not been so stirred since I witnessed the magnificent funeral of the great WWI Canadian flying ace, Billy Bishop, pass in front of me when I was but a boy in Toronto.... As far as the eye could see, every man, his hat removed, standing at ramrod attention, one hand over his heart, out of respect for this great soldier who gave so much for his country. No less can be said of these two brave warriors, who gave all they had....
IN FLANDERS FIELDS
In Flanders fields the poppies blow
Between the crosses, row on row,
That mark our place; and in the sky
The larks, still bravely singing, fly
Scarce heard amid the guns below.
We are the Dead. Short days ago
We lived, felt dawn, saw sunset glow,
Loved and were loved, and now we lie
In Flanders fields.
Take up our quarrel with the foe;
To you from failing hands we throw
The torch; be yours to hold it high.
If ye break faith with us who die
We shall not sleep, though poppies grow
In Flanders fields.
JOHN McCRAE
They shall grow not old
As we that are left grow old.
Age shall not weary them
Nor the years condemn.
At the going down of the sun,
And in the morning,
WE WILL REMEMBER THEM.
LAURENCE BINYON
...Lest We Forget!
Please Remember "Remembrance Day" by Wearing a Poppy....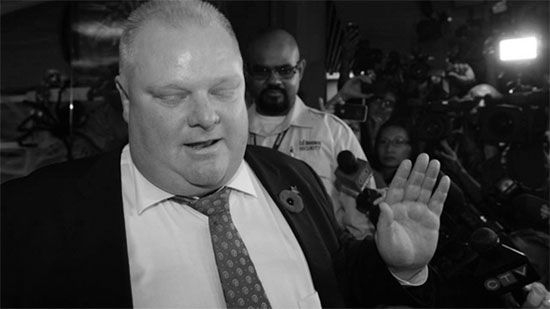 Regarding Mayor Ford...
Three years ago when then Toronto Mayor Rob Ford asked me whether or not he would be re-elected, I glanced at his palm, saw the image in my Mind's Eye of him standing on a platform with a red "FORD FOR MAYOR" sign above his head as he made a victory speech, and I replied: "Yes, you will be re-elected!"

...And so he was... but not quite the way we imagined. I turned on CNN right after the election and there he stood, just as I had seen him in my Mind's Eye three years earlier... standing on a platform with a red "FORD FOR MAYOR" sign above his head, making a victory speech as the caption beneath read: "FORD PROMOTED TO NEW POSITION – RE-ELECTED TO OLD POST!"
Close enough.... He was re-elected to another term (– but it was in his old riding and he'll be there for as long as he chooses to be); a Toronto stage play has already been produced in his name, and has received "critical acclaim." (I'm certain the movie will soon follow.) And although he hasn't died from a "heart attack," he did contract a fairly serious cancer (liposarcoma), which he will survive!

C'est la vie...


"At last! The true identity of England's Jack the Ripper – ("It's the Ripper!" – "It's the Ripper!!") is finally uncovered! London's Whitechapel area police station (the area where the systematic butchering of five "ladies of the night" took place) will make the big announcement. Oddly enough, his first name will actually turn out to be: –Jack!" (First prophesied: STARGAZER, 2013)
(Then later, to wit: "DNA IDENTIFIES AARON KOSMINSKI AS JACK THE RIPPER," Toronto Sun, September 08, 2014) [P.S.– Maybe KOSMINSKI means "JACK" in Polish?]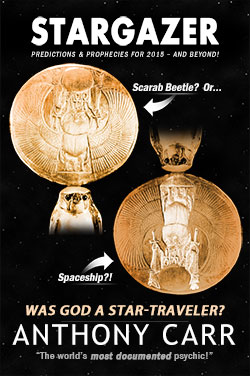 Read Anthony's predictions & prophecies for the coming year by clicking here.